Power
Our Kansas City datacenter is fed by three power components critical to datacenter infrastructure.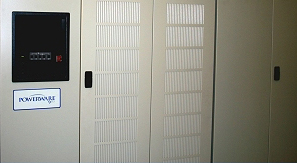 Primary power is received from Kansas City Power & Light (KCP&L) utility power. Designated a critical infrastructure building, KCP&L provides three power feeds to the facility. These feeds are connected in parallel and each draws from a different independent power grid.
Secondary and temporary power is supplied by UPS battery systems. We have sufficient UPS battery strength to assure continuity of power to the entire dedicated server facility. In addition, a separate UPS system maintains all critical networking infrastructure.
The third power comes from a 400 kilowatt diesel generator. Fuel access points on the ground level of the building allow us to refuel the generator tanks at any time. The generator can be run indefinitely to supply power to the facility.
In the event of loss of utility power, the automatic transfer switch moves the power source from utility to diesel generator. The UPS systems supply temporary power during the time required for the generator to fire up.
Network

Wholesale internet is focused on providing highly reliable, ultra low latency network connectivity, suitable for any application. Our network is built with a fully redundant architecture, and scales globally.

Directly Connected Upstream Providers:
Hurricane Electric
Cogent Communications
Telia Company
GTT Communications
China Telecom
China Unicom
Notable Private Peers:
Public Peering Points:
Kansas City Internet eXchange (KCIX)
DE-CIX New York
DE-CIX Frankfurt
De-CIX
Minneapolis Internet Cooperative Exchange (MICE)
DenverIX
Seattle Internet eXchange (SIX)
100 MB testfile
1000 MB testfile
10000 MB testfile
Physical Security
Along with reliable power, and a solid network, security is a primary focus at Wholesale Internet.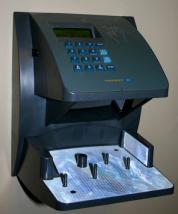 Access within the facility is controlled by biometric scanners, and monitored 24/7/365 by security cameras. Every doorway, both at the entrance of the facility and within, are secured using biometric hand scanners and monitored with video surveillance, ensuring zero unauthorized access to any part of the facility. This provides the ultimate level in protection to keep your mission critical internet services safe.
In addition to physical access control, security cameras monitor every row of the dedicated server room, the power room and the hallways. There are also surveillance cameras in the elevator lobby. All video is recorded and kept for an undisclosed duration. Video evidence of any theft, arson, destruction of property or other illegal activity is given to the proper authorities.